Chelmsford Business Association ...
The Chelmsford Business Association is a group of nearly 300 member businesses that operate in the Town of Chelmsford. The organization of the Association includes officers and a Board of Directors. Established in 1990 by a group of business people who were concerned with the many issues of owning and operating a business in the town of Chelmsford.
They saw the importance of having a strong representation and a good working relationship with the town officials. Tax classification was always a major focus of our association. Over the life of the association, the board has worked diligently with town officials to reduce the differential between business and residential tax classification, and succeeded first when classification was lowered from 5% to 2% and then when it was recently eliminated altogether. In the fall of 1998, the Chelmsford board of Selectmen, with strong support from the CBA, voted to eliminate tax classification.
The Chelmsford Parade Committee, Inc. would like to thank everyone who helped to make our 2016 4th of July parade such a huge success! We are pleased to announce that we have been reappointed again for 2017 and are already busy making plans. We would love to have more members participate with us so if you would like to help with this great event please feel free to contact us at:  chelmsfordparade@aol.com. Also check out our web site for great pictures and information on the parade: www.chelmsfordparade.com.
Thank you!  Brian Reidy & Jeff Hardy, Parade Co-Chairs
Board Meeting
September
TBA
Noon
CBA Board Room
Board Meeting
October
TBA
Noon
CBA Board Room
Board Meeting
November
TBA
Noon
CBA Board Room
Board Meeting
December
TBA
Noon
CBA Board Room
Board Meeting
January
TBA
Noon
CBA Board Room
The 2016 CBA Member of the Year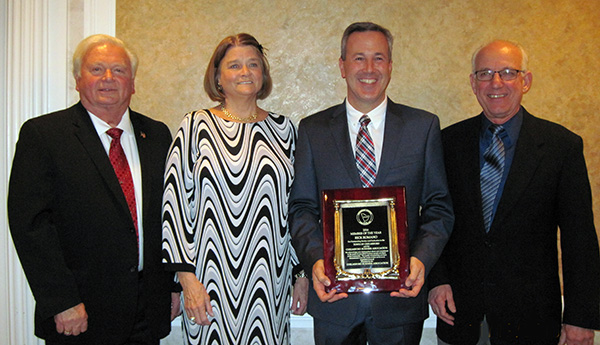 Rick Romano
Pictured John G. Harrington, Kathy Kelley, Rick Romano and Hank Hamelin
Interested in becoming a member of the CBA?
Email us for more information: