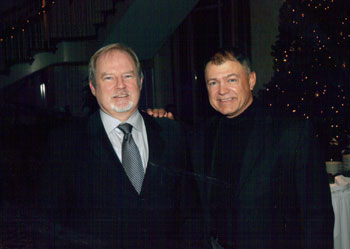 Schedule: Chelmsford Public Access Channel 8 on Monday at 7:30pm and Friday at 7:30pm.
See the Channel 8 schedule for the currently featured businesses.
The CBA Show first aired on Monday, March 5, 1999 at 9:30 P.M. on Channel 3 in Chelmsford. The shows concept was the idea of Tom Christiano, who hosted the first show. The show focused on Harrington Wine & Liquors and its owner, John Harrington. Since John was one of the founders of the CBA, he talked about how the CBA organization began, its purpose and membership. Then Mr. Harrington talked about his business, Harrington Wine & Liquors, its background, the store decor and operation of his business.
The CBA Show is now in its eighth very successful year and is produced by Paul Aronian of Advanced Video Recording, Inc. and hosted by Bill Martin. Each episode introduces a member business to the community and is repeated several times weekly, for a month on the Chelmsford Cable TV channel, from September to May each year. Paul and Bill come to the business to interview the owner or management and perhaps some of the staff. They introduce the company, tell a little about what the firm does and they take the audience on a video tour. They find out what makes this company a little different and what is interesting about the business—perhaps even a human interest story. As each business is individual, so is each episode. Surprising as this sounds, all this production is done at no cost to the business. Advance Video Recording and Paul and Bill donate their time and use their own company's equipment, making this show one of the many great values to member businesses as well as to the community.
Some of the recent and upcoming episodes of The CBA Show include:
Chelmsford Lumber Company and Castle Complements Painting
Members who took advantage of the CBA Show in 2011
Szechuan Chef's
KP Performance Solutions
Sichuan Palace, New Owner
Stafford, Gaudet & Associates
Java Room
Mrs. Nelson's Candy House
Body & Mind Therapeutic Massage
Weston Nurseries
Greater Visions Children's Center
Play It Again Sports
Emergency Power Generators of New England
Rufina's
Subway – Parkhurst Road
Ready Real Estate & Sales, LLC
Zesty's Pizza
Remington Travel
The Meat House
Colonial Village Laundromat
Charles Frederick Jewelers
Florial Moments by JuJu Buds
If any member of the Association is interested in having their business highlighted, please contact John Harrington at (978) 256-2711.